Paving Specialists in Nassau County, Suffolk County and New York City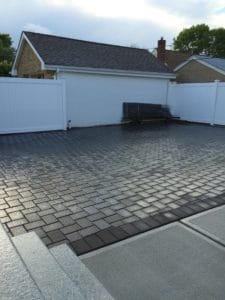 Thanks for visiting Creative Masonry & Concrete. We're a local Nassau County based small business with a focus on all phases of residential, commercial, or industrial paving. We offer our customers the best in high quality materials, a solid attention to detail, friendly service, affordable pricing and time-efficient work. As an experienced paving company with 20 years in the field, some of the most common types of paving projects we offer include:
Driveway Paving
Parking Lot Paving
Parking Garage Paving
Basketball Court Paving
Tennis Court Paving
School, College & University Lot Paving
Strip Mall Paving
Seal Coating
Drainage
Brick Pavement Systems
Concrete Paving & Repairs
Asphalt Paving & Repairs
Residential Paving Services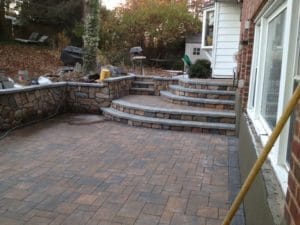 Does your driveway, deck, patio or walkway need to be repaired or in need of general paving services? If so, you've come to the preferred choice for all services related to paving in Nassau County. We specialize in asphalt as well as concrete paving for residential homes and properties. Your driveway is a seriously important component of your home's curb appeal, let us improve it!
We handle all phases including driveway resurfacing, new installations of asphalt or concrete, extensions, and much more. We are a very customer oriented business and truly care about our standing in the community, so you'll notice that we'll be looking out for you every step of the way during the paving project for your home. Our staff takes into consideration a variety of factors that we need to know about before paving including invisible fences for pets, sprinkler system locations, your existing drainage system setup, average vehicle traffic load, sidewalk and garage transition areas, as well as the existing condition of your driveway.
What Do We Pave?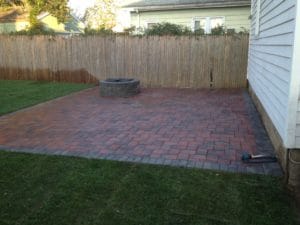 There is definitely a clear difference between our residential and commercial/industrial paving projects. The jobs mostly differ due to the size of the area that needs to be covers. For commercial and industrial work in addition to the facility type, there are a whole array of extra measures we take to make sure those clients get the maximum lifespan for their paved surfaces.
Residential Paving Places We Service
Home Driveways
Condominium Driveways
Apartment Complex Parking Lots & Driveways
Housing Development Roads & Select Driveways
Private Road Paving Installations
Pool Areas, Patios, Outdoor Recreation Areas
Parks & Playgrounds
Decks
Home Garages
Residential Asphalt or Concrete Paving Available
Our Paving Specialties
Excavating/Grading
Resurfacing & Overlays
Asphalt Paving
Concrete Paving
New Construction Paving
Patchwork
Grading
Sealcoating
Drywell / Drain Repair
Pot Hole Repair
Pavement Maintenance & Repair
Demolition, Replacement & Installation of Asphalt, Concrete Pavement
New Construction Paving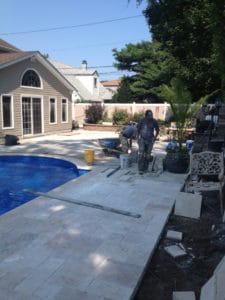 Creative Masonry & Concrete specializes in new construction paving services. We have great relationships with a wide variety of existing contractors and are ready at a moment's notice to give you a free estimate on a brand-new property being constructed. We are your top choice when it comes to asphalt or concrete pavement installations. Our paving crew will successfully plan out, design, and manage every point of the process from beginning to end so that the finished results truly sparkle.
There happens to be much more to paving than just grabbing materials and using our modern equipment to apply the asphalt or concrete. We take great lengths in planning out any new construction paving project we take on in Nassau County or Long Island in order to get you the maximum lifespan possible for your surfaces. Our licensed and insured team of paving experts will try to obtain information from you related to what kind of traffic you might be looking at and even the types of vehicles. For example, a truck terminal would require deep strength paving due to the size, weight and on-going traffic of the rigs moving back and forth over time. This type of paving is far tougher and less susceptible to damage over time.
Longevity is a big concern of ours, and we can present you with many recommendations and options flexible enough to fit what your needs. Handling drainage is an important detail that many companies neglect. Without proper drainage, water will eventually collect underneath the surface eroding the soil and cause, cracks, crevices and potholes to appear. It will even make the surface un-level. These are all things that could and should be considered potential liabilities. The last thing you want is an employee or a customer tripping and falling over damaged pavement. So, as a local company that truly cares about its customers, we try to look at things from all angles. Additional focal points of your project might include concrete curbs, concrete flatwork, and asphalt crack filling services.
Asphalt Sealcoating Services in Nassau County, NY
The key to the ongoing longevity of your asphalt is just like anything else; maintenance. Sealcoating plays a larger role than you might think. We like to look at it as protection against things such as UV Rays, grease, chemicals from automobiles, oil, and other harmful irritants.
The first step in the process is having our asphalt sealcoating team inspect your property for each and every crack. Those get cleaned out and filled in with the proper high quality material. After this is accomplished, we'll check for stains such as grease and oil and get those cleaned up as well. The final step in the process is applying the nice dark sealcoat which will make your existing parking lot, driveway, or private road look brand new.
Resurfacing of Asphalt in Nassau County, NY
Asphalt Resurfacing is a long term, cost effective service which we provide to those that have surfaces that are heavily damaged or compromised. We put a lot of architectural planning and effort into making sure your property's asphalt gets replaced and resurfaced properly. If your surface has instances such as standing pools of water, cracks or crevices, or un-level surface areas in specific spots, then it might be a good time for an asphalt resurfacing project.
We'll begin by cleaning the surface area before anything is performed. After this, our team will begin by leveling out areas of the asphalt that are uneven, adjusting drainage structures, and grinding out all transitional spots. We offer quite a few options to those in need of asphalt resurfacing. These include:
Leveling Binder: In lower grade areas, asphalt is installed at all kinds of depths. This is done to adjust leveling to proper grades. As an added benefit, it will also increase the strength of the parking surface area.
Butt Joint & Grinding: When you have unique surface materials (other types such as concrete) that cross paths with asphalt, resurfacing needs to be performed in a proper way to allow for proper depth along the border.
Transitional Milling: An asphalt milling machine is used to basically remove a specific depth of pavement. This is done via a grinding process. Like Butt Joint & Grinding, this is performed when we have two unique surfaces that end up meeting each other and they have to be leveled out properly as to not cause any future damage or issues from weather.