Landscape Design in Nassau County, Long Island & New York City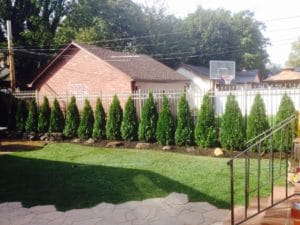 At Creative Masonry & Concrete, we have over two decades of experience specializing in residential or commercial landscape design. We are artists and love creativity.  With that being said, you can rest assured that by hiring us, you'll be working with an owner operated business where the entire team has a true passion for designing the landscape of your dreams. Some of our basic landscape design specialties include:
A Custom Landscape Design Consultation
Detailed Planting Advice & Plans
Custom Masonry & stonework
Poolscapes
Landscape Lighting Systems
Patio, Deck & Fence Projects
Custom Concrete, Brickwork & Paving
Custom BBQ Areas
Pool Area Design
Waterfalls
Courtyards
Terraces & Walls
Organic Gardening
What Sets Us Apart from Other Landscape Architects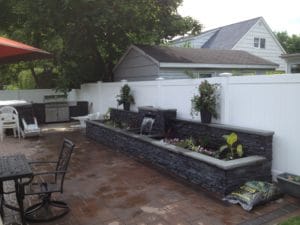 With all of our experience, we're able to walk into someone's property and visualize something that is currently present. There's a beauty in that. Sometimes the number one reason people in our business aren't able to be successful is because they're unable to take an abstract idea and make it concrete. We are very good listeners, excellent with communication and love creating exotic, natural landscapes for our customers. We service small to large customers and really only like to put our focus on one job at a time so that we can see your vision through to the very end.
Fence Installation in Nassau County, NY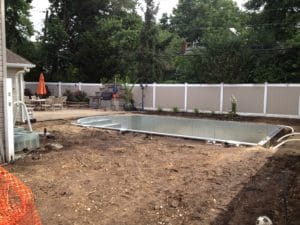 Creative Masonry & Concrete specializes in providing expert fence installation throughout Nassau County and Long Island, NY. We have a wide selection of styles and colors to choose from. In comparison to other companies, we have plenty of experience with landscaping and safety precautions. These are two big factors that every home or property owners should be concerned with when hiring a company to install a fence.
A tremendous amount of planning goes into setting your property up with the right fence. We need to make sure that when we dig and level the surfaces out properly, we are not damaging any sprinkler systems, pool lines, gas lines, or electrical lines you may have setup. As a fully insured company, we look out for the best interests of our customers as well as our own. So you can always count on us to pay attention to the details when setting up a fence installation for you.
No property is ever truly flat and perfectly level. Sometimes we run into situations where we need to add filler such as soil, brickwork, or stones. This is perfectly natural and just due to land conditions.
The Types of Fences We Install
We have a large selection of fences available to fit your landscape and mesh with the background as much as possible. These include:
PVC Fencing
Woodgrain PVC Fencing
Estate Fence & Gates
Chain Link Fencing
Custom Wood
Hand Rails (for walkways)
Commercial, Industrial & Security Fences Available
Sod & Seed Install & Maintenance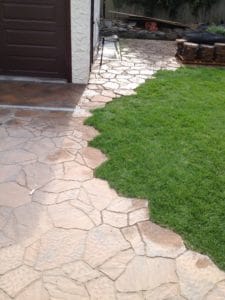 When we spend, time doing landscape design or hardscape projects for our clients, we tend to come across issues with the property's grass. Perhaps it hasn't been cared for properly or there are natural issues going on. Whatever the case may be, we have solutions and they involve planting seeds or installing sod. Both are two separate solutions to have a beautiful bright green lawn within yours from yard, back yard or throughout the entire landscape of the property. There are a few key differences between both that we make clear to our clients.
If you are in need of a beautiful lawn basically "on-demand" then Sod is for you. It's a bit more expensive using seeds because you're essentially paying for someone else's grass that they have taken the time to grow and nurture in a perfect environment. If you've ever see perfect rows of grass that have been rolled out in front of you and installed on a residential or commercial lawn, then you've seen the process of Sod installation. Contrary to popular belief, Sod is not weed proof. It may appear that way upon installation, but it's not guaranteed to stay without the presence of weeds. You need to either hire a landscaping expert like us or practice seasonal maintenance to manage the upkeep of your lawn.
Planting seeds to grow grass takes much longer because you have to wait for the grass to grow, however it's much less expensive than purchasing Sod. Also, depending on the season in which you begin planting seeds, it may not grow into the lush lawn you were hoping for. Planting seeds in order to grow grass should be performed by an experienced company or landscape designer if you're looking for optimal results.
We have a few tricks up our sleeve when it comes to managing a lawn as well as growing a sprawling healthy set of grass. Our team makes excellent use of fertilizer, watering and we even take a route known as Hydro-Seeding. This could be summed up as a faster way toward growing lush grass for your home or commercial property.