Concrete Contractors in Nassau County, Long Island and New York City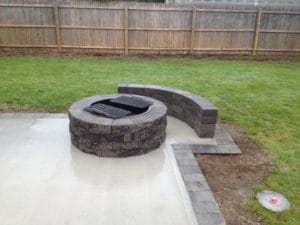 Creative Masonry and Concrete is a local Nassau County based company with over 20 years of experience with concrete contracting based projects. We possess a tremendous amount of skill and attention to detail when it comes to forming, pouring, reinforcing and finishing concrete. Whether you are in need of concrete for a pool patio area in your backyard or a commercial property which much larger requirements, we are at your service.
Our team of concrete contracting experts in Nassau County, NY are fully licensed and insured. As a small business, we completely understand your desire for complete satisfaction and consistently reinforce our belief in exceeding your expectations. As a specialist in all phases of masonry related solutions in Nassau County, we come prepared for all projects with ready-mix concrete for residential or commercial jobs.
Our concrete contractors will work with you to determine the best possible product type in order to fit your needs. We're very flexible when it comes to pricing so we can meet your budget and truly look forward to going over what you'd like designed and built. We love what we do and it really shines, once you've seen the finished product. As licensed masons, we already have a plethora of creative ideas that could apply to your custom project. Depending on what your trying to do, we also offer a large selection of brick types, stone types, colors as well as sizes or styles. When you combine our large selection of brick or stone types with concrete, we can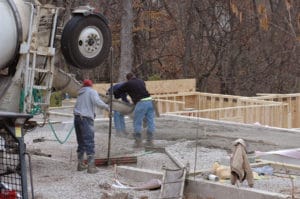 build you something out of this world! Some of our specialties specific to concrete include:
Patios
Pools
Driveways
Parking Lots
Sidewalks, Walkways
Handicapped Access Ramps
Steps & stoops
Brick-Pointing
Violation Removal
Basement Entrances
Foundations
Sidewalk & Walkway Services in Nassau County, New York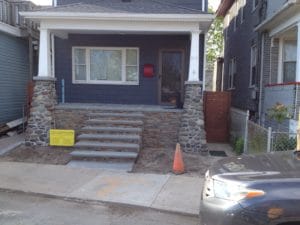 In need of a new sidewalk or walkway? You've certainly come to the right place. Creative Masonry and Concrete specializes in concrete applications for sidewalks and walkways of all kinds or sizes. We all provide leveling and repair services.
Whether you need repair, replacement or leveling services, we are here to help you. Give us a call today, we offer free and friendly estimates. Creative Masonry and Concrete specialize in providing concrete services for:
Driveways
Sidewalks
Walkways
Decks
Patios
Pools
Garages
Floors
HVAC/Utility Pads
Foundations
Uneven sidewalks or a common sight. It's just something that happens over time. The issue with ignoring concrete slabs on a sidewalk which are uneven is that it gets worse on an annual basis. What happens is that water begins collecting underneath the un-level concrete slab eroding the soil around it, once the winter comes along it freezes and begins to crack other concrete slabs. Don't worry though, this is a very straight forward problem and we carry the solutions to fix it for you.
We can provide you with a variety of options for fixing your sidewalks. Our team will usually discuss concrete leveling or replacement with you. As a homeowner, uneven concrete could be dangerous if you have kids running around or riding around on bikes. As a business owner, uneven slabs of concrete could prove to be a major liability as they increase the probability of a customer or employee falling thereby injuring themselves. We are here to help.
Concrete for Patios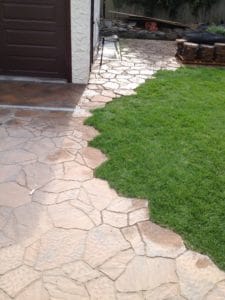 Patios are the one spot on your home's property where everyone tends to congregate during the spring and summer months of the year. Concrete has a variety of benefits in its usage for patios. The flat surface and aesthetics are a big reason as to why it's a hub for the American homeowner's family activities or get-togethers. You can drag chairs, barbecues, tables or practically anything you like onto a concrete surface. You don't have to worry about cutting the grass, weeds, bugs or anything of that nature. There are a wide array of options we offer homeowners for concrete patio design and building. We can craft something as organic as your landscape or a design you've been dreaming of. Ask us about our concrete patio surfaces, we would love to share them with you.
Concrete for Driveways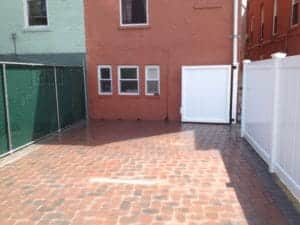 Not too long ago in the past, your driveway was restricted to two different choices. You could choose from either asphalt or concrete. However, we now offer you a very flexible amount of modern design options at your disposal to fit in with the overall look of your landscape and home. From stained concrete to stamped, the design is completely up to you. Our concrete driveway design consultant will help you in every way possible, but we want to give you the comfort in knowing that you have plenty of options available to achieve a high-end beautiful appearance that is unique. It's a wonderful notion to think, you may have the most elegant driveway in the neighborhood.
Stained concrete for your driveway is an affordable and flexible way to achieve a luxurious appearance. Unlike Stamped concrete, we don't need to mix in the color when applying the concrete, the stain is applied after the concrete has settled. This is where you will see subtle hints of our attention to detail and craftsmanship.
Stamped concrete driveways are very effective for giving you the appearance that the driveway is actually composed of much higher end materials like cobblestone, brick, or marble. We are able to stamp out all portions of your driveway without the need of lifting or pouring into separate areas. This is highly cost effective and time efficient. Once this has been done, we can add a variety of textures or patterns, and stains that produce beautiful colors.
Site Concrete for Residential & Commercial Establishments
Creative Masonry & Concrete is a leading concrete site contractor serving all of Long Island with a focus on Nassau County, NY. We specialize in projects specific to commercial or residential site concrete flatwork. To give you a decent scope into our project experience, we have completed large commercial projects involving hundreds of yards of square feet over the last 20 years. On the residential side, we have performed countless concrete flatwork projects that involve just about anything mason-related. These include things such as small handicap ramps, driveways, sidewalks, walkways and much more.
Concrete Repairs in Nassau County, NY
Due to weathering, obstructions from different objects, time, and many other circumstances, concrete will need to be repaired. Repair is necessary when cracks start appearing all over the surface. Repair is even more so a necessity if you have blocks of concrete that are no longer level with each other. This can prove to be a big hazard in many situations. We are highly experienced and specialize in concrete repair throughout Nassau County. We use the latest state-of-the-art joint sealing systems as well as materials to ensure that you get the highest quality repair done professionally. The most common areas we provide concrete repair for include:
Sidewalks & Walkways
Curbs
Driveways
Decks & Patios
Potholes
Parking Lots
Parking Decks
Garages
Handicap Ramps
Concrete Removal & Disposal Services in Nassau County
When you look at concrete that needs to be replaced, most people tend to completely forget what to do with the old concrete. Disposal is important. It's not as if you could just throw it in the garbage along with the recyclables for bulk pick-up. Due to its nature, concrete contains certain elements such as rock and gravel which can be re-processed for later usage. Traditional carting companies won't pick up concrete slabs left out in the garbage and you'll have to hire a specialized rubbish removal business that will charge you by the weight.
At Creative Masonry and Concrete, when we perform a concrete replacement project for you, we'll help to remove the old materials. In turn, this should alleviate any issues you have from worrying about disposing of un-needed concrete.